Beautiful survey software to run truly professional projects.
---
Do it yourself, or get our expert help. You choose.
Design
&

deploy with ease!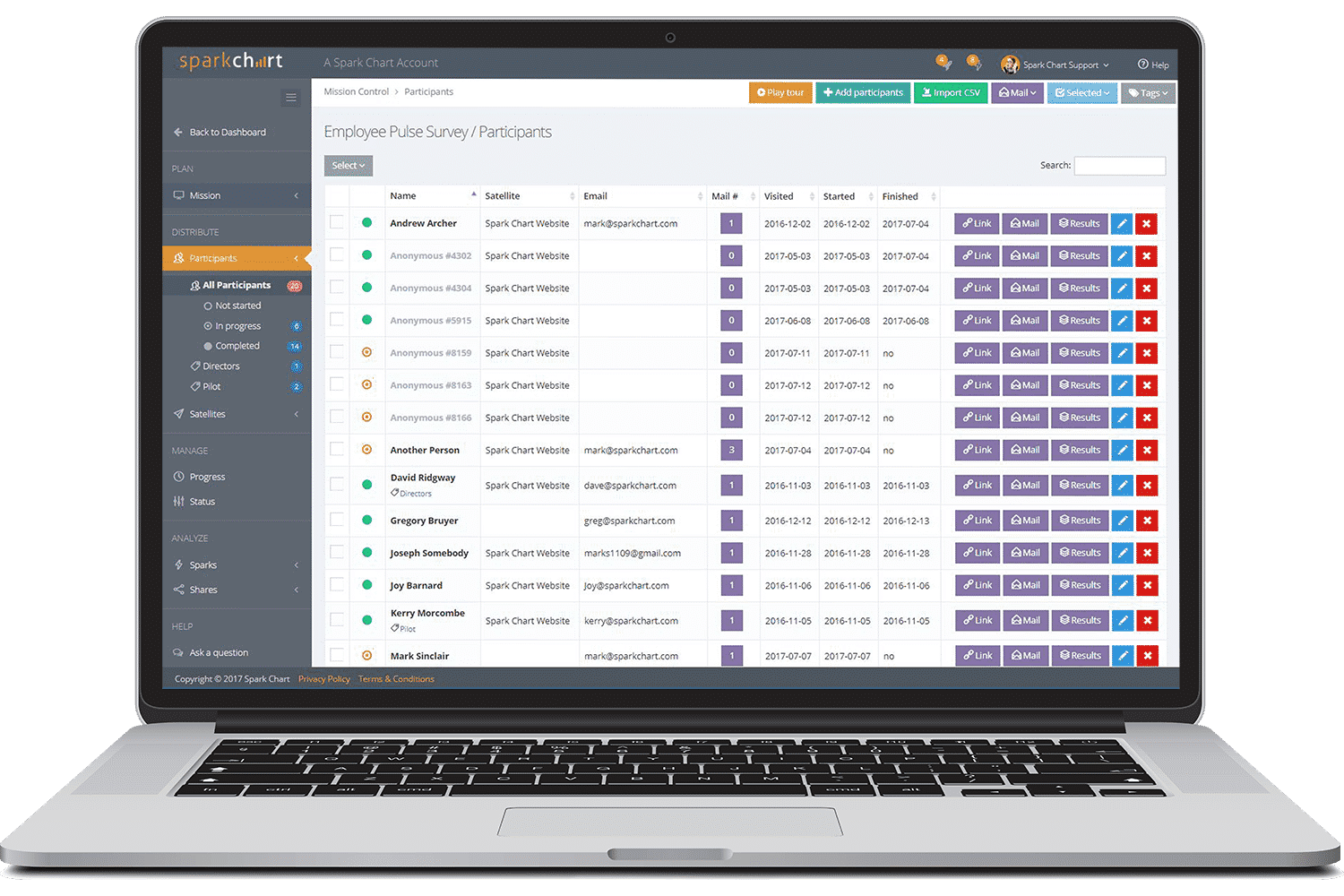 About
The survey tool to rapidly design, deploy and share beautiful surveys
Whether you are a business, organization, consultant, team or an individual, Spark Chart can help you get the feedback you need. Create and deploy surveys easily. Generate beautiful reports and share them instantly with others.
Our Mission

"To help people become survey experts and get the feedback they need."
Professional
Run truly professional survey projects
Your surveys send a message about you (and about us). So, we want to make sure they are well designed and look great.
Spark Chart provides significant customizing options to make your surveys look totally professional and refelect your individual style needs.
Design
Design quality surveys quickly
Design and customize your own quality survey templates quickly and easily. Re-use your survey templates quickly and easily whenever you want. You won't need to recreate them.
As part of your Spark Chart survey software plan, we provide a range of very high quality standard survey templates. These survey templates can be used as-is or customized.
Deploy
Deploy surveys rapidly
Import your contacts and distribute surveys to individuals or groups using customized emails. Create beautifully styled and professional email templates to send survey invitations or messages and to share survey results.
Instantly track the progress of survey participants. Follow up with targeted and customized survey reminder messages.
Add surveys to social media or websites with links that we call satellites.
We don't leave getting responses to chance.
We give you the tools to engage respondents, track their progress & follow up to get the feedback you need.
Features
Powerful survey software that is easy to use
Spark Chart's survey software helps you quickly design, deploy and manage surveys, analyse results and share beautiful reports. Don't be misled. Managing a survey is complex. The survey software helps users become efficient survey experts without overcomplicating the process.
Everything is included – no frustrating upgrade options
All plans are fully featured and provide great value for money. There are no frustrating upgrade options.
Create any type of survey!
Your Own Branding
Comprehensive branding options
Customize the branding, colours and logo for your project along with headings, messages, instructions. Create unique welcome and finish pages. Use your own email name and address for your project.
Your surveys will look beautiful on any device.
Quality Templates
Choose from high quality survey templates
We have a comprehensive range of survey templates to suit most needs. Here are a few to try now.
Template examples
If you cannot find what you need then let us know.
There are many more templates to choose from. And we are adding more all the time.
Customize Surveys
Create your own customized surveys
Design and customize your own surveys quickly and easily. Or start with one of our high quality survey templates and customize it. Customize welcome and finish instructions. Insert headings and messages anywhere in the survey. Add instructions to any question.
And much more …
Allow optional comments on any, or every, question. Create your own Rating Scales or use the standard scales we provide. Create Answer Lists for Multiple Choice questions to avoid constantly recreating lists. Copy surveys with one click and then edit.
See a Sample
Take a sample survey
Click on the button below to complete a sample survey. Remember, the logo, messages, questions, scales, colours, headings and footer can all be customized.
See the results
Return here to view a sample of the results. Share your results or present in Spark Chart. There is no need to export.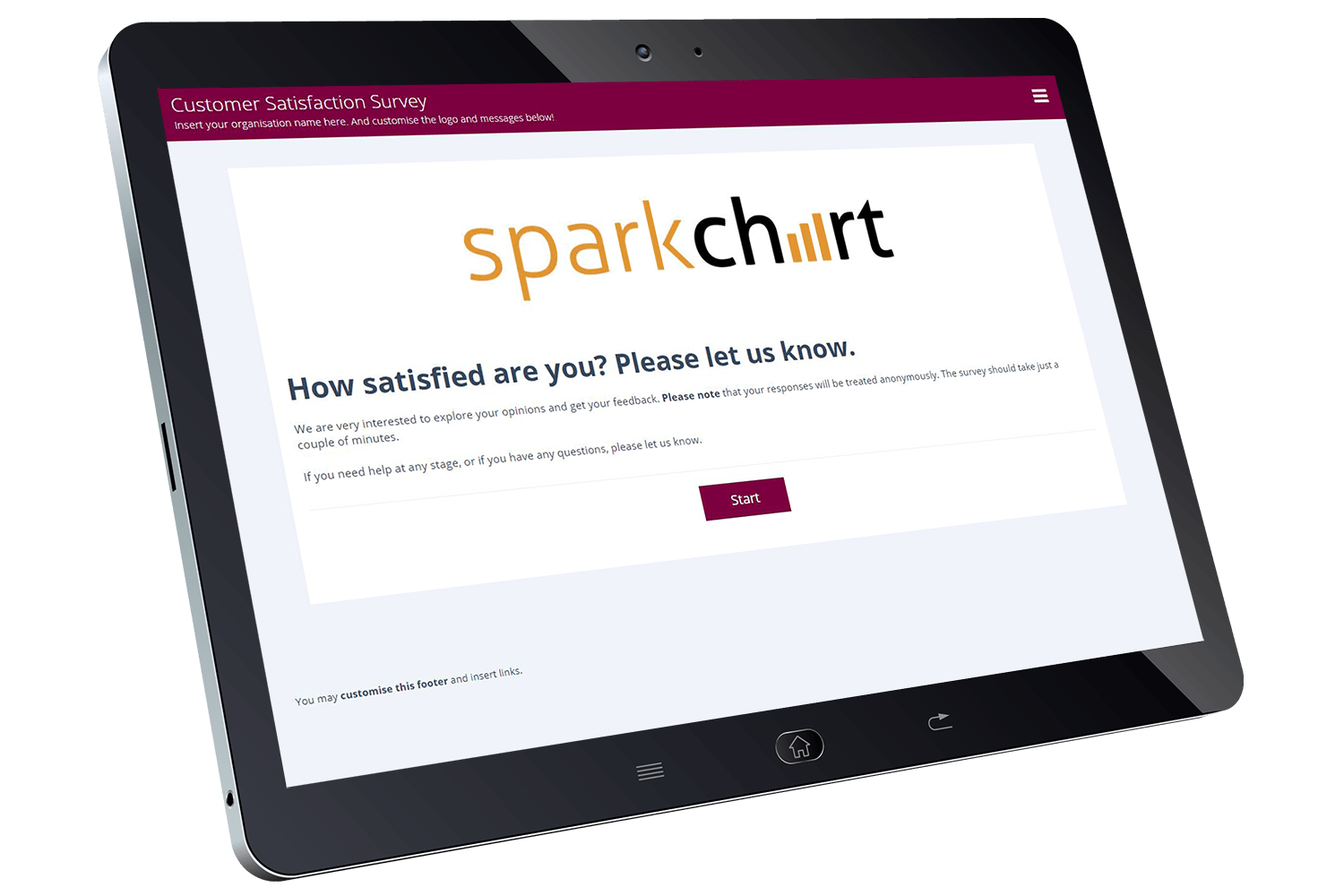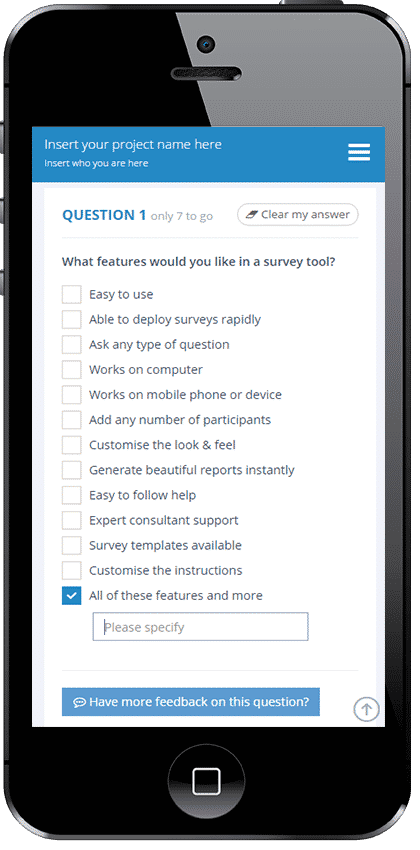 Dig deep, analyze
&

share beautiful presentations!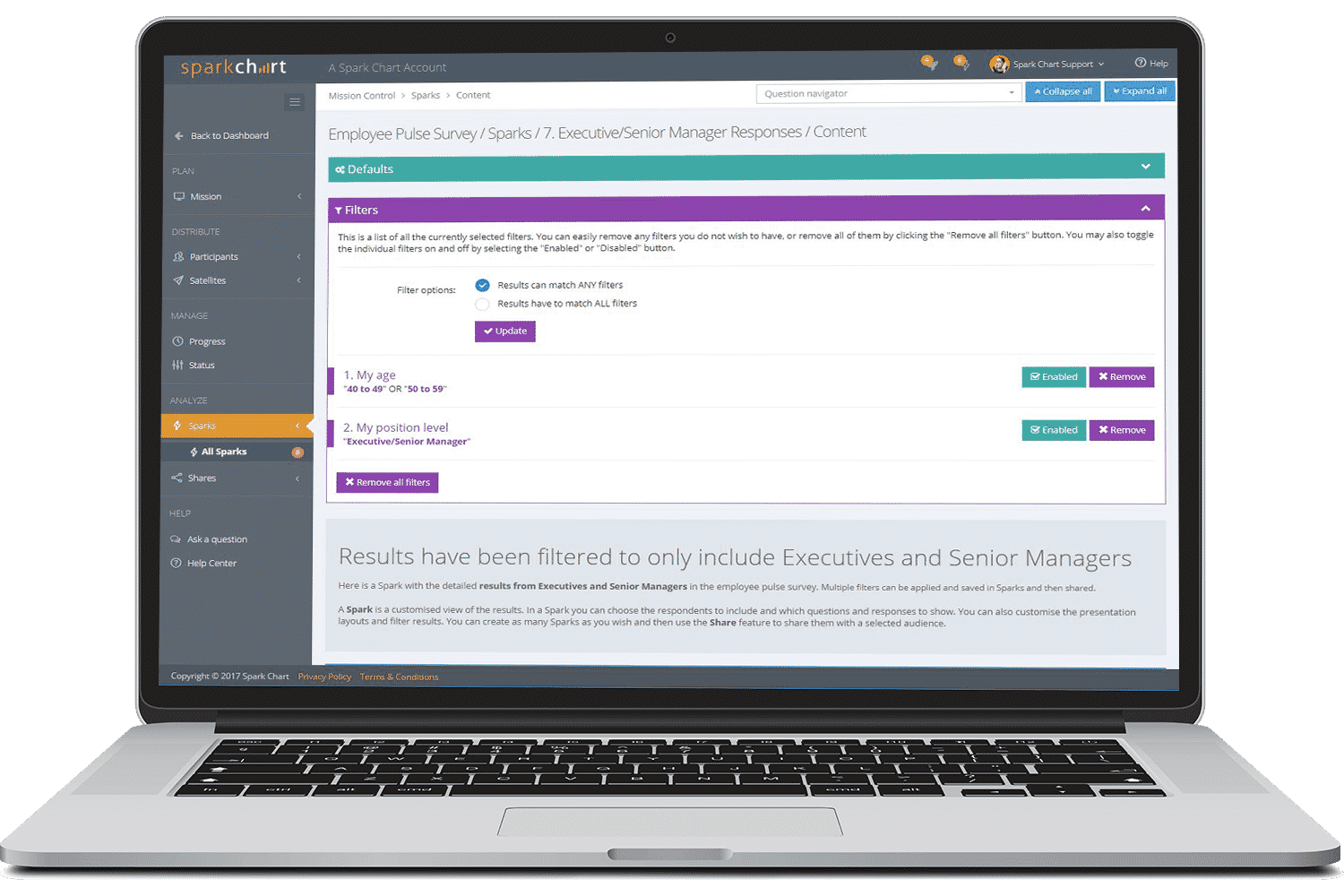 Analyze Deeply
Dig deep into the results
You don't need to be an expert consultant to perform the analysis and pepare the reports. Spark Chart has powerful features to help you easily analyse and filter survey results, customise presentation layouts, and save your analysis. You can also add your key messages, analysis and recommendations directly into the software.
Create a copy of your analysis instantly and perform further analysis without losing what you have done.
Beautiful Reports
Create & share beautiful reports
Our Sparks and Shares feature allows you to quickly create customized and beautiful presentation layouts, add key messages and recommendations and share your analysis.  Choose from a range of beautiful graph layouts. You are in complete control of what you share and how it looks.
Share Instantly
Build and share your presentations in Spark Chart
You know how other survey software makes you export your results. Well, we don't.
Save time. Forget about exporting to PowerPoint, Word or other programs. Create dashboards for different audiences with the messages, colours and logo you want. And do it all in Spark Chart.
Get Support
Responsive support from survey experts
Get responsive support and advice from experienced survey consultants. Or see the comprehensive help resources in our Help Center.
We want to help you become a survey expert.
Consulting help is available
If you need help to design or manage your survey project, we provide expert survey consulting services or survey training programs for a fee.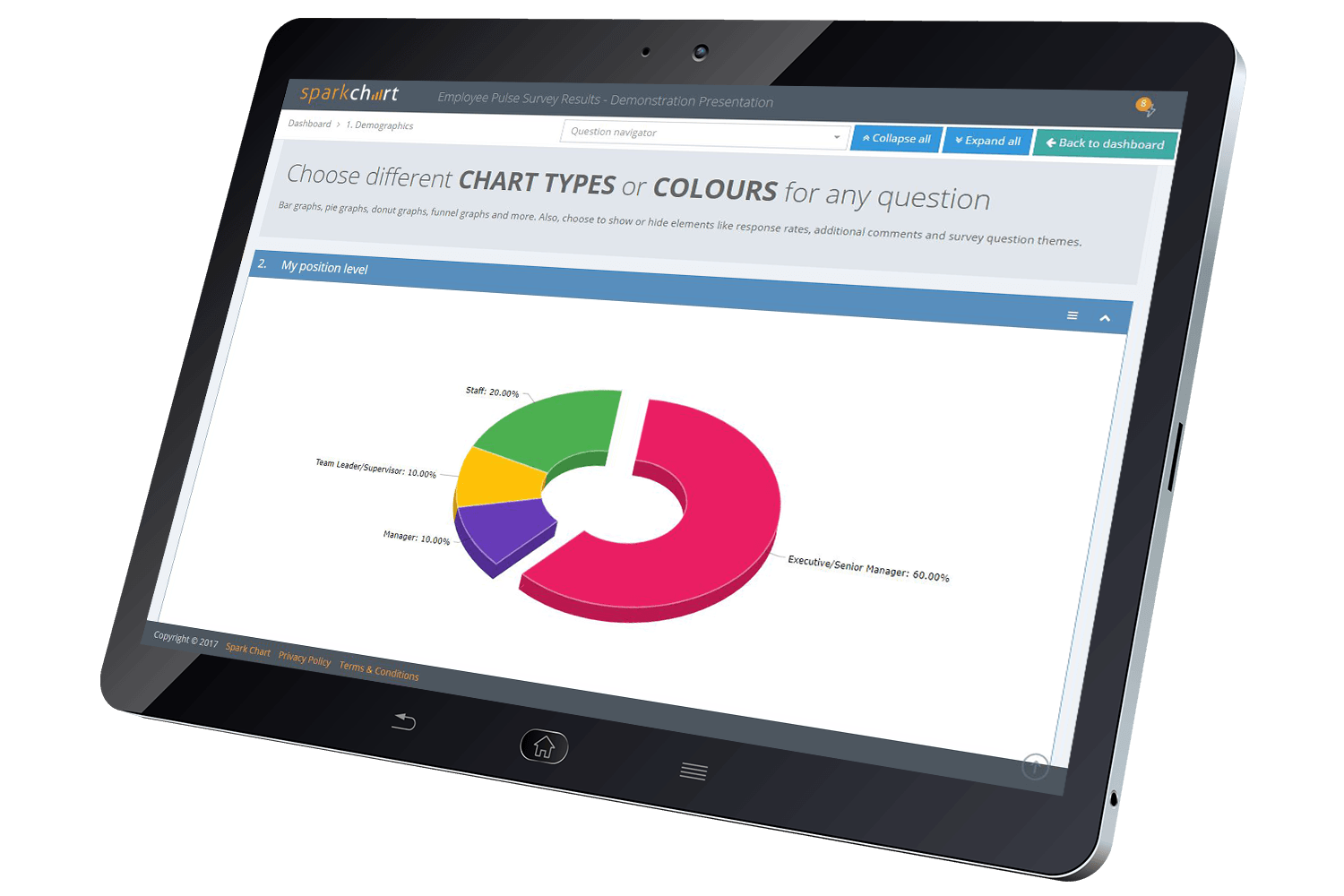 Why choose Spark Chart
&

our Survey Tool
User interface & tools designed to make you a survey expert.
Create, present & share amazing looking reports in Spark Chart. No need to export!
Looks great on any device. Your surveys should look professional.
Get survey templates designed by survey and industry experts.
Truly customised branding is a standard feature with Spark Chart.
Comprehensive Help Center and responsive technical support.
Numerous unique features others don't have. And we haven't stopped developing.
Get the best fully featured survey tool with no limits for one low fee.